All good things come to an end. And Windows 7 is no exception.
When Microsoft released Windows 7 back in October 2009, they made a commitment to support the operating system for 10 years.
Pffft, ten years! Who would still be using Windows 7 ten years on?
Millions. Millions of people and businesses, that's who. And up until recently, I was one of them.
That decade has come and gone, and with Microsoft's confirmation that support for the much-loved Windows 7 will end on 14 January 2020, it's time to upgrade and join the other 800 million Windows 10 devices.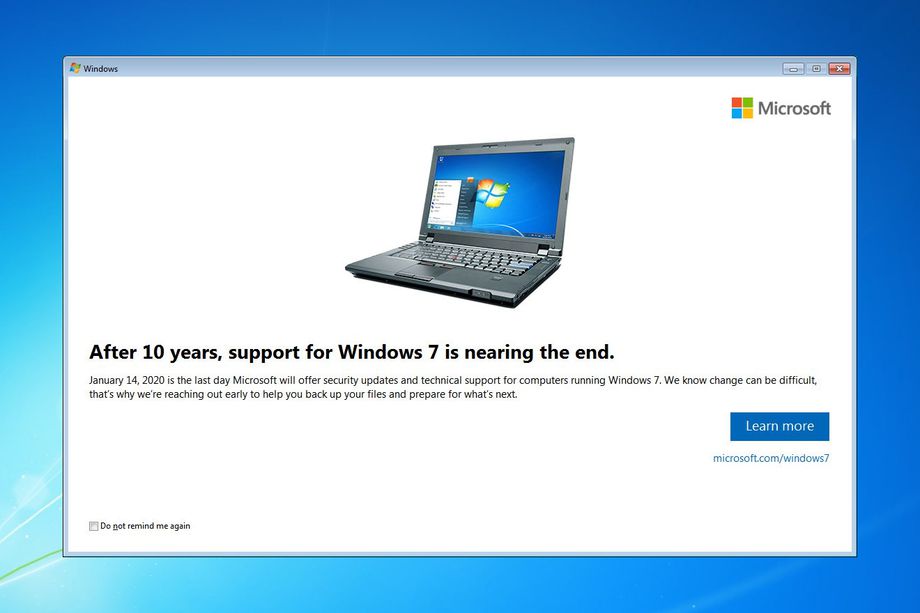 But, why? And, do we have to?
Short version:
Because it's a security risk. And yes, yes you do.
Full version:
With Microsoft's recent announcement confirming the end of support for Windows 7, our days with one of the most popular operating systems are numbered. So, what does this mean for you? Well, I'll be discussing precisely that (and what all the fuss is about) in this article. Here's everything you need know to prepare for Windows 7 end of support:
What does "End of support" even mean?
Before we discuss what our favourite operating system looks like without support, lets quickly clarify what support is.
When Microsoft releases an operating system, they do so with a commitment from their technical gurus to regularly deploy updates and patches and assist with technical issues as they arise.
You'll recognise when these gurus have been working away, because every so often you'll turn on your computer and be greeted with this: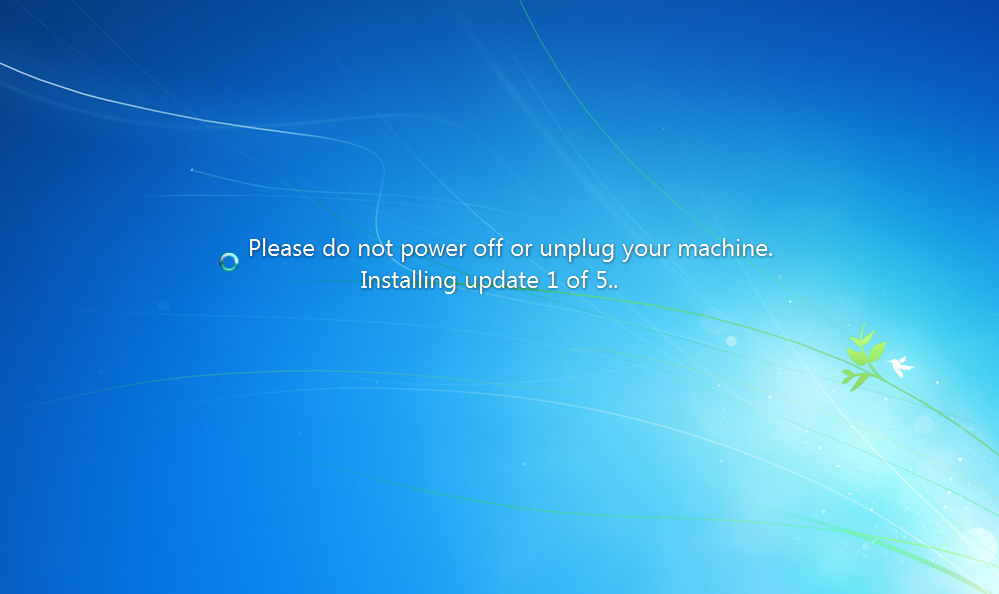 But despite what you might think, Microsoft don't roll out these updates (at what always feels like the most inconvenient time) for nothing. The patches and updates they deploy help your operating system to:


Improve its performance on your computer

Add new features

Improve your workflow; and more importantly

Be more secure by patching up security holes that malicious IT geeks expose
More on that last one shortly.
But with Microsoft announcing Windows 7 end of support as of 14 January 2020, it means your business will no longer receive technical support, or have access to updates and patches that protect your Windows 7 devices against security threats.
So, what happens after 14 January 2020?
The good news is, you're not going to walk into the office on 15 January 2020 to discover that your Windows 7 computers won't turn on. They will.
But just because they do, doesn't mean you should use them.
In fact, I'd like to wave giant red flag recommending that you don't. And here's why.
It's a security risk
When Windows 7 reaches its end of life phase on 14 January 2020, the operating system transitions into what I like to describe as a honey pot for deceitful IT geeks.
Armed with the knowledge that your Windows 7 device won't be supported and updated, cyber-criminals will swarm to exploit un-patched holes in the operating system – which creates a serious risk for your Windows 7 devices.
Essentially, your Windows 7 device will be on its own to fight off malicious nerds. And based on the devasting malware outbreaks that infiltrated Microsoft XP when it reached end of support, I don't like its chances.
What's the answer?
Windows 10 is the answer, and Microsoft (obviously) agrees: "Going forward, the best way for you to stay secure is on Windows 10".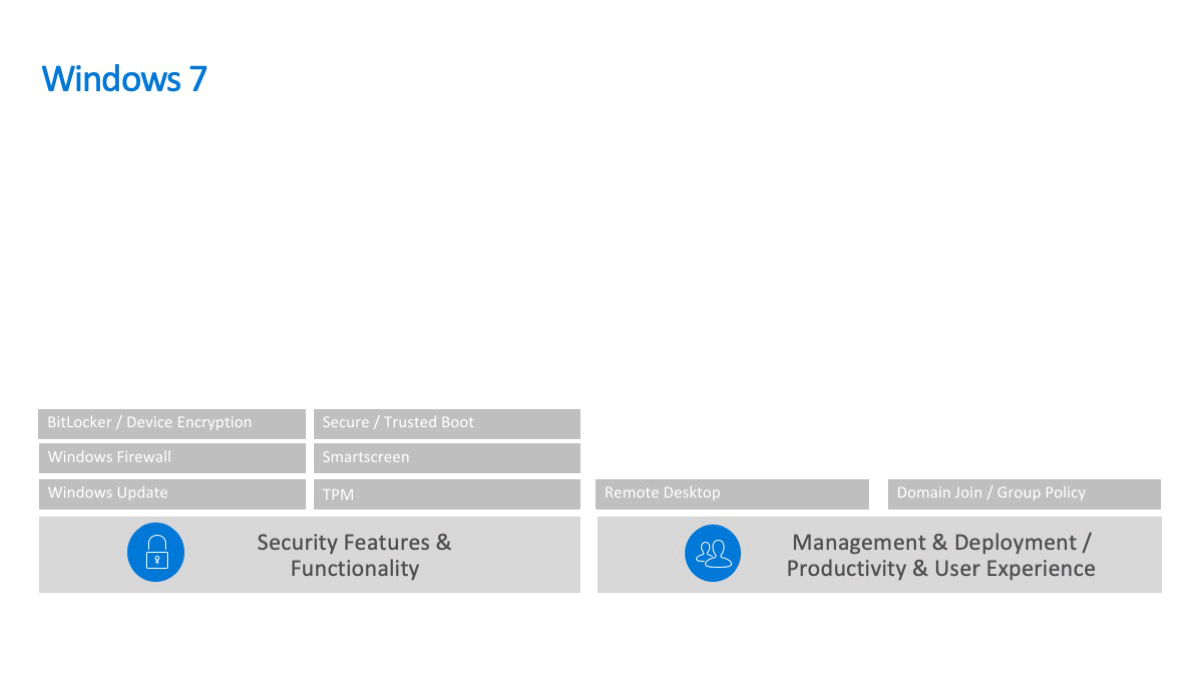 Windows 10 is Microsoft's latest operating system and comes fully supported with routine updates, security patches and technical assistance. It's Microsoft's most feature-rich operating system and it comes with a bunch of tools that you can use to:


take your business on the go
easily manage your business the way you want; and
protect your data from falling into the wrong hands
There's a lot Windows 10 has to offer, and I'll save the nitty-gritty details for another discussion, but I'll list a few that your business will benefit from right away.
Security and protection – built in
Windows 10 Pro comes with built-in security features, including firewall and other Internet protections to help protect your data against the latest threats, viruses, ransomware and devious IT nerds.
Take your business on the go
Windows 10 allows you to link your compatible mobile device to your computer, so you can pick up where you left off. From web pages, Office docs and photos – you'll be able to read, write and edit them across all your devices.
Windows Defender antivirus
According to Microsoft "Windows Defender Antivirus uses the power of the cloud, wide optics (to be honest, I have no idea what wide optics is),machine learning and behaviour analysis to protect your devices from emerging, sophisticated threats."
A fast and secure way to get things done on the web
Windows 10 comes with Microsoft's new web browser: Microsoft Edge which is packed with features that make reading easier, browsing faster, and learning easy.
How do I know how many of our devices are running Windows 7?
If you're running a small business, you might be able to whip around the office and manually check each of your devices. But it's far easier to put your IT team to work, so you don't have to.
Just fire off a request to your IT Manager or IT service provider asking them to get back to you with a report detailing:


how many of your computers are running Windows 7
how old the devices are; and
their recommendations on what you should do next
How do I move our Windows 7 devices to Windows 10?
There are three options you can choose from to upgrade a Windows 7 computer to Windows 10.
Option 1: Purchase a Windows 10 licence
Simple, quick and easy. A good option for computers that are no more than 1-2 years old.
Why only 1-2 years old?
Well, the idea of upgrading means raising your computers to a higher standard for your team. Which is great in theory, but it doesn't always happen. Particularly when you mix new technology with older technology. I'll explain.
After upgrading an older computer from Windows 7 to Windows 10. There's a chance that instead of feeling the bigger, faster and fancier benefits that Windows 10 offers, your computer may in fact feel sluggish, clunky and unresponsive. AKA: R e a l l y s l o w a n d seriously frustrating. Not exactly an upgrade.
The reason for this is because new software typically demands more resources from the hardware powering it. And in the case of older computers, they may not have the resources available to make the new operating system run smoothly. And we all know what happens when your computer runs slow…
*click*
*click click*
*click click click click click click*
kasdhjfkajdshg…
*slam*…
Note: You may even notice a similar pattern of decreasing performance with your 1-2-year-old smart phone each time you install the latest operating system upgrade.
In cases where you're dealing with older devices, you may be better off replacing the computer for a newer model that already comes with Windows 10 and the latest hardware to support it. Again, this will be best discussed with your IT Manager or IT service provider, so you can get an upgrade strategy that delivers the most bang for your IT buck.
Option 2: Replace your old devices
As touched on in option 1 above, it's not ideal to install Windows 10 on older devices. And Microsoft (obviously) share this view: "Going forward, the best way for you to stay secure is on Windows 10. And the best way to experience Windows 10 is on a new PC. While it is possible to install Windows 10 on your older device, it is not recommended."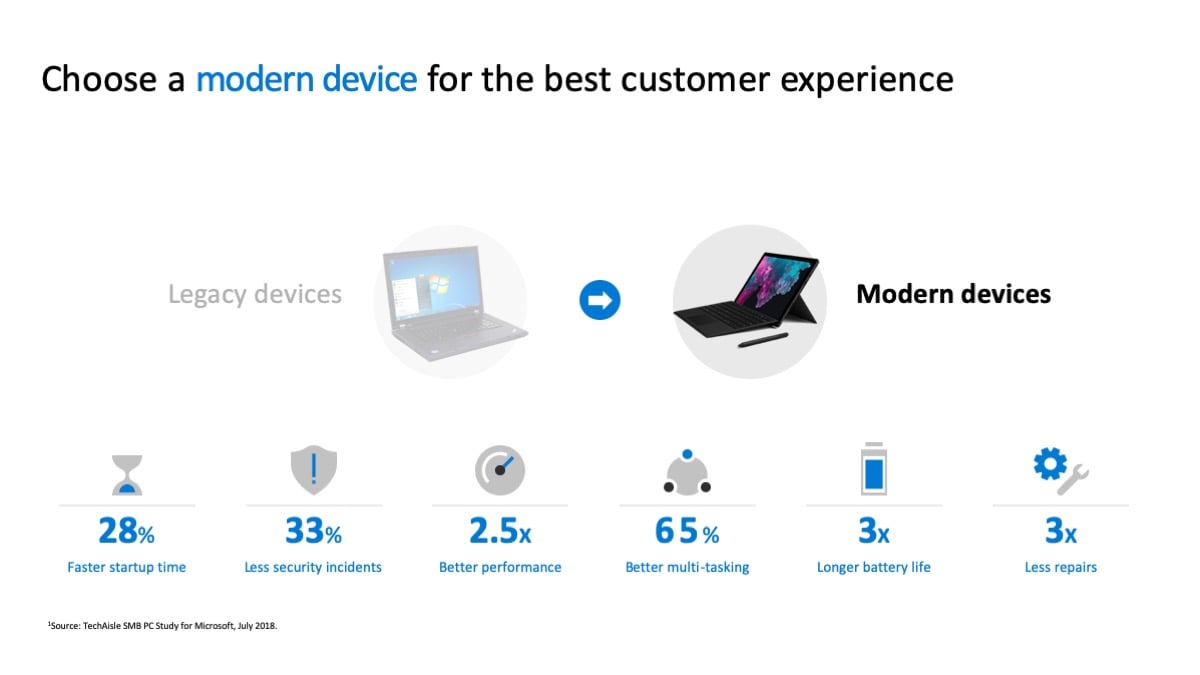 As said by the guru's themselves, the best way to experience Windows 10 is on a new PC. And I'd have to agree. As the Windows operating system has evolved, so have devices. Replacing your older devices with modern Windows 10 PCs that offer digital inking, facial recognition, voice recognition and up to 28% faster load times, means your business will have access to the latest operating system, and all the built-in collaboration and security benefits, without reducing your teams productivity. That's a big win.
Option 3: Get Modern with Microsoft 365
Another option for you to discuss with your IT Manager is to modernise your workplace with a subscription to Microsoft 365 for business.
Unlike option 1, this is a subscription service that has a low-cost monthly fee. But the kicker here, is that it doesn't just include a licence to upgrade to Windows 10 pro. It comes bundled with a lot more. And if you're already using Office 365, for what works out to be a few dollars extra, this is seriously worth considering.
Microsoft 365 Business is purpose-built for small and medium-sized businesses under 300 users. Switching to Microsoft 365 means you'll get all the goodness of Office 365, plus a bunch of tools that give you the peace of mind knowing that your security, data and devices are protected against sophisticated cyber-attacks. A subscription to Microsoft 365 for business includes:


Business class email hosting
Cloud storage
Access to Microsoft Teams for collaboration
Desktop versions of Microsoft Office applications
Advanced security to guard against unsafe attachments, suspicious links, and other malware; and
The ability to apply security policies to protect business data on personal and company-owned devices
Better yet: Windows 10 Pro upgrade rights are included with Microsoft 365 Business if your devices are currently running Windows 7, 8, or 8.1.
How much does it cost to upgrade to Windows 10?
It depends…
I know, you were probably hoping for an exact figure. But it's difficult without assessing your current situation. And yes, while the RRP of:


a Windows 10 pro licence is $339AUD
a new business grade PC will range from around $1000 - $3000AUD; and
a Microsoft 365 Business licence is $30AUD Per User Per Month
It's not as simple as multiplying the price of each option by the number of devices your business has. And that's because there's a lot of factors to consider, here's a few to consider:


How many devices do you have in total?
How many are currently using Windows 7?
How old are your devices?
Are they under warranty?
What Office 365 business licences do you use?
Do you have a subscription to Microsoft 365 for business?
Do you have an internal IT team or external IT service provider?
Does your IT support agreement include setup costs?
What about labour/upgrades/reinstalls?
Is there a fee to safely backup your current devices prior to upgrades?
Who safely decommissions your old devices? Is this included in your agreement?
Are delivery/courier fees applicable?
The answers to these questions will help determine the most economical way for you to upgrade to Windows 10.
Fortunately, getting the answers to these questions isn't difficult. Just reach out to your IT manager or IT service provider to open up the discussion and they'll do the rest. Your IT team should get back to you with the precise data and a thorough cost analysis, so you get all the bells and whistles you need, without paying for stuff you don't.
Oh, and if you don't have an IT Manager or support team to do this for you, just click here and we'll help you get started.
What about my programs? Will they still work on Windows 10?
Compatibility is a concern, but it doesn't need to be. According to Microsoft, most programs, games or utilities that were created for earlier versions of Windows will work in the most recent version of Windows 10.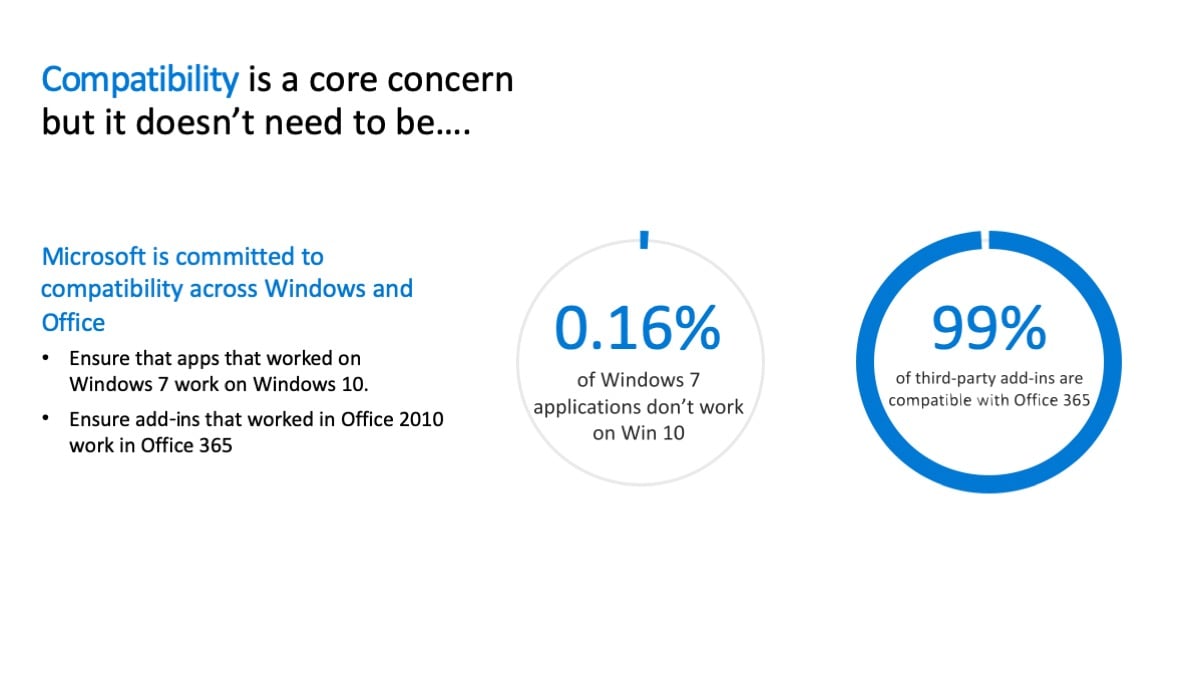 Having said that, there's a chance that some older applications might run poorly or not at all. Should that be the case for some of your older applications, Microsoft have included a compatibility mode setting with Windows 10. This essentially tricks your old software into thinking that it's being used with an earlier version of Windows. You can learn more about it more this feature here.
What happens between now and 14 January 2020?
Microsoft will still be actively supporting your Windows 7 devices right up until 14 January 2020, so it's important to keep on top of your updates and patches to help keep your business secure.
If your organisation has:


an internal IT Support team
a dedicated IT Manager; or
an external IT services provider that pro-actively manages your IT for you
It's likely that you can expect to hear from them in the near future to discuss a cost analysis and an upgrade strategy to suit your business.
If you manage your IT yourself or you have access to an ad-hoc/as-needed IT service provider, it would be worth initiating the discussion, so you're not left scrambling around at the last minute trying to work out the most economical way to upgrade your business.
In the meantime, we'll be running promotions and deals on new Windows 10 devices, so keep an eye out between now and the end of the year.
Windows 10 is moving in
Despite all the fancy business boosting features it offers up, not everyone likes changing operating systems. I fall into this category too. Especially, when you've spent 10 years mastering the old one.
The frustrating thought of having to learn a new system and hunt around menus and toolbars trying to find something that would've only taken 2 seconds on Windows 7 can be enough to put you off making the switch.
But for fellow Windows 7 pro fans, I'm afraid there isn't a long-term or secure Windows alternative other than upgrading to Windows 10 pro.
But it's not all bad. Transitioning over to Windows 10 hasn't been as frustrating as I thought it would be. It feels familiar – responsive, in fact. And dare I say it, enjoyable even.