Ask any top performing IT Professional: Diplomas, certificates and degrees are great, and they look nice framed on your office wall.
But, unlocking a golden achievement badge for your efforts is the holy grail of achievement recognition.
The trouble is, golden achievements are not handed out to anyone willing to sign up and log in. They need to be earned – the hard way. Often through hundreds of hours of study, research, practice, failure, assignments, missions, tests and proving you can deliver real results, on time, every time.
From day one, our business has been all about evolving with – and for – our clients, so we can enable your business to realise its potential. In fact, it's our mission to do so.
Do what you say. Say what you do.
If you've spent 30 seconds on our new website, you'll have noticed our superhero IT abilities, dashing good looks and modest self-reflection. And, if you're yet to sample our IT heroics, here's a few examples:
"IT Support (Without the wait)"
"All the smarts you need"
"Industry leader"
"actively improving your IT ROI"
"get off the back foot and spend less time counting the productivity cost of fighting IT fires, and more time fighting for market share."
"IT to smile about" - here's living proof: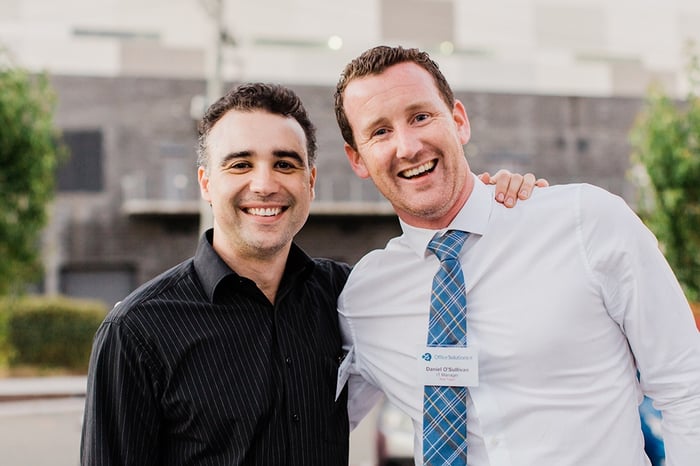 So, when we asked our entire team to walk the talk and prove their superhuman IT capabilities. The assignment was set - it was game on. Capes were ironed, playlists were organised, and the coffee machine was serviced.
The assessor: Microsoft. The Mission: Operation gold.
Microsoft need no introduction. They are a global heavyweight in the IT industry and they are precisely who you turn to when you want to put your IT powers to the test.
Our superheroes knew that Microsoft didn't have a weakness – it wasn't 2006. There were no shortcuts, no backdoors, and no kryptonite - only the rhythmic beat of hard working mechanical keyboards was going to get them over the line.
The standards were high. Study, research and technical exams were just the beginning.
From designing efficient cloud computing solutions that seamlessly tie multiple applications together, through to providing superior security and lowering IT overheads. Our team of superheroes demonstrated hundreds of hours of Office 365 migrations, SharePoint integrations and rolled out the best fit-for-purpose IT solutions to improve IT ROI.
And, well… we couldn't be prouder. Our entire team levelled up and unlocked two golden badges from Microsoft to prove it.

But we're not just here to claim that we can fix things faster than you can say, "Double Microsoft Gold Partner". This is about more than proudly showing off our latest win and basking in the golden glory that comes with the highest level of Microsoft partnership available.
Our team is here to work with you - to think strategically about your IT - so we can nurture and enable your businesses potential. And it starts with a conversation.
So, give us a call, pop in for a coffee and meet the golden bunch of IT heroes that put your business goals in reach. "Yeah, yeah, yeah" you say. But we mean it. And even have the golden badges to prove it.